Construction Growth in Alachua County 
Gainesville and Alachua County Florida have experienced commercial construction booms since the 1970s influenced by the areas growing economic dependence on medical facilities and buildings of higher education. While Decker's construction roots date even farther back to around 1931, Decker, as a modern group of construction managers and general contractors, focuses heavily on the very same industries that have helped Alachua county flourish. 
From health care facilities to higher education construction and remodeling, it seems as though our expansion over the years has led our team to find an even more specialized niche in medical research buildings, biohazard facilities, and medical laboratories. 
Laboratories consist of many intricate spaces, with designated areas where specialized work takes place. The construction and renovation of these facilities require exceptional attention to detail, and often, as our team has experienced, flexible timeframes and working conditions. 
HVAC Install and Lab Commercial Renovation
In February 2021, Decker Construction completed a laboratory renovation in Alachua County which involved the replacement of the lab's entire HVAC system. The laboratory space covered over 100,000 square feet and the project involved the commercial remodeling of nearly a quarter of the labs in the facility.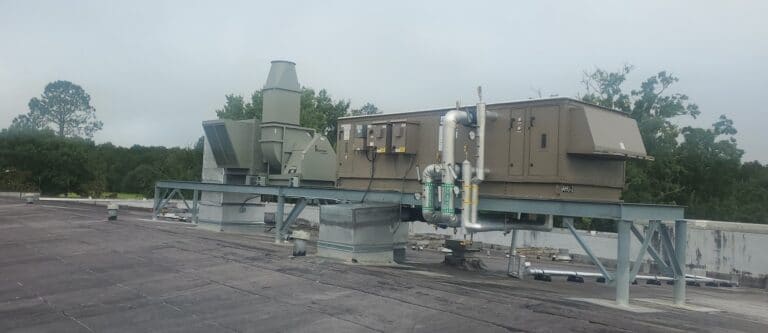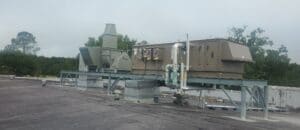 Alachua County Continues to Expand
Along with our involvement in the Alachua County lab industry, Alachua County is continuing to welcome an additional several hundred thousand square feet of lab space, which was set to begin in 2022. This new space is scheduled to house "a mix of diverse companies", and locals are hopeful this growth will influence "much-needed housing opportunities". 
The Renovation Details
Decker's Progress Center HVAC and commercial laboratory renovation project was completed while adjacent labs in the facility remained active, encouraging strategic coordination amongst our internal operation as well as fluid communication with the project owner to ensure users did not lose out on any critical infrastructure. 
During the Alachua project, our team replaced two major Air Handler Units (AHUs), which had roof-mounted units, requiring structural steelwork to be completed to ensure the units would be safely supported on the roof. There was also an extensive amount of metal ductwork to run from the AHUs to the lab spaces along with copper water supply lines, air valves, and various controls to keep the AHUs operating at desired settings. 
In addition to the AHU installation, Decker also installed a new air-cooled chiller to meet the cooling needs of the 100,000 square foot lab space. A natural gas boiler was also installed to address the heating elements of the large facility.  A new Exhaust fan was installed to support the laboratory exhaust fume hoods in each laboratory. 
This Progress Center HVAC lab renovation project was completed for Nucleic Acids Licensing LLC, who owns the entire renovation space and also rents out lab spaces to other tenants. As mentioned above, our team began this lab renovation in February of 2021 and we are proud to say the commercial project was completed in July of that same year. 
Contact Decker Construction
With safety as a top priority in each and every build and renovation, the Decker team is able to deliver beautiful and functional spaces to our clients and project owners allowing the relationships we build to last long after construction is complete. 
We encourage you to contact our team with any questions about your upcoming commercial build or renovation project. With years of commercial construction experience, a dedication to seamless construction management and general contracting, and our promise to always put people over profit, Decker Construction is here to give you the best experience possible and build a better quality of life for everyone we serve. 
Call us today at 352-448-1428, visit our website at Deckercm.com, or send us an email!